blog
just a moment too soon is written from a professional angle explaining what you can expect when you have a premature baby in the NICU. It is a handbook containing comprehensive, reliable and vital information that can teach, equip and empower you for this journey.
Understanding the needs of your baby

1. Predictable Environment
For the sick baby in the NICU, the environment is an unpredictable and frightening place. They have left the safe, secure and protective environment of the womb and are not equipped to handle life 'on the outside'. They will probably have breathing challenges and will struggle to keep is heart rate, blood pressure and breathing rates stable – let alone have extra energy to entertain the family.
Compared to the womb, they are now bombarded with stimulation that they are unable to deal with so they are very easily overwhelmed by it. This causes them to shut down to human contact and withdraw, as they learn to block out the sources of stress. They do this just so they can cope with living in the NICU.
This environmental stimulation is the constant noise, bright lights, frequent alarms and consequent handling. The babies also experience countless painful procedures (IV insertion, intubation, heel pricks) usually with no reassurance or loving touch.
Sleep deprivation is another source of great stress for these infants. When inside they sleep around 22 hours – this is what nature intended – necessary for normal healthy development to take place. However once in the NICU with these constant stressors, they can easily become chronically sleep deprived.
Once chronically overtired they can be more easily susceptible to becoming sick or getting infections. Of course, we all experience this even with our fully mature and healthy immune systems. Prem babies are more at risk because they are still developing their little immune systems.
The unpredictable nature of the environment is also extremely stressful for each prem baby. These babies thrive on feeling loved, secure and having a predictable environment. Each of us have both the right and the need to feel safe and secure – this right is also vital for babies.
Along with is another huge source of stress – being separated from your mother. This is rarely discussed in medical literature but reconnecting mother and baby early will lessen the emotional and psychological fallout later. See Chapter 4 on Bonding with your baby.
How can we make their environment more predictable?
• Avoid sudden movements, use slow synchronous movements,
• Wrap them in a small muslin wrap when in the incubator – Muslin wraps are an excellent investment – as the baby doesn't overheat in them.
• Babies should be wrapped prior to weighing, transfer out of the incubator for skin-to-skin contact or bathing. Even leaving upper body wrapped whilst doing a nappy change can prevent the exaggerated startle response seen when both arms fully extend and jerky movements are witnessed. Babies find this extremely stressful according to Neuropsychologists experts in the field.
• Blood tests: should be done in conjunction with sleep/wake cycles, tell the baby what must be done prior to the event.
(It is quite inhumane to jab a sleeping person with the lancet – we wouldn't dream of doing that to an adult or child).
For more information on this see Chapter 2 and 3
2. Reconnection with Mother
The importance of a predictable environment and reconnection with mother particularly are intertwined providing the ideal predictable environment: skin-to-skin cuddling. The mother's role is crucial for the emotional health and well-being of the infant. This involves emotional connection and physical protection of her infant.
Emotional connection is impossible without physical connection.
This can be challenging in the NICU when many tubes are present, however it need not be.
There are some common misconceptions held within the NICU culture. I believe control lies at the core. These misconceptions were challenged for me personally a few years ago by a conference speaker, – a Doctor who has studied the effects of skin-to-skin contact for over 30 years.
Based on his research Dr Bergman adamantly insisted – 'The more unstable the baby, the more they need to be cuddled'. In my practice since then I have proved this true.
When you think about it, our emotions affect our body. This is no different for babies.
The NICU infant experiences a great deal of stress and distress and being separated from their mother causes a good deal of this.
Many studies have been conducted examining the effect of separation stress on infant mammals when the mother and her young are separated.
Prolonged separation gives rise to a 3-stage process:
First there is protest: tiny prems are not capable of protesting. As mentioned earlier, they are often struggling to breathe and keep their vital signs stable.
When the infant is well enough they will protest. It is a high-pitched sounding cry – sometimes sounding very distressed. It is instinctive for their very survival. They are calling for their mother to come and rescue them from this foreign place and protect them from further harm.
It is a very different cry from other cries, like hunger. Health workers often seem unaware of this and are not taught of its significance. They can be even amused at the 'feisty' nature of the protesting prem who is vigorously crying. Honoring the infants needs means taking action to physically reconnect mother (or father if mum is unavailable) and baby as soon as possible.
If separation is prolonged, despair occurs, and then stage 3 is dissociation. There can be a profound effect upon the mental health of the infant setting the stage for life.
Separation causes toxic stress within the infant. Let me explain: Separation and feeling unsafe causes vigilance. We all need to feel safe – both physically and emotionally.
Stress increases the production of Cortisol – the fight or flight hormone. This profoundly stressful time (being born premature, sick, separated from your mum and living in the NICU) occurs at a critical time of brain development.
During the third trimester (26 – 40 weeks) the foetal brain triples in size. In this phase of development rapid and continual change occurs: dendritic growth, synaptic connections, apoptosis, myelination and later pruning. It is estimated that the brain is wiring at 40,000 connections per minute. (Bader, 2014)
Experiences that are repeated are reinforced and those that aren't are pruned away. This process is called neural sculpturing. So, a baby who experiences love and nurture from birth has different brain wiring than one who experiences neglect and abuse.
(Perry, Bruce, D. (1995) When States become Traits, Infant Mental Health Journal, Vol 16 (4) p 271-290).
Neural sculpturing is experience dependent.
"Cells which wire together, fire together, and those which don't, won't" C. Shatz.
Early care and emotional bonding profoundly affects the developing brain, altering its structure, function and size.
The NICU infant is often whisked away from their parents often after a traumatic birth, into the hostile NICU environment. For the baby this is terrifying and painful – emotionally and physically – intravenous insertion and methods of respiratory support are painful.
During this time the brain remains bathed in Cortisol.
The ever-developing neural pathways are experience dependent – consequently early traumatic experiences where supportive care is inadequate sets up lifelong relational patterns: impacting on bonding and attachment, causing difficulty feeling connected, feeling emotionally distant, distrust and withdrawal.
Bergman says 'Trust is wired in the first hour of life'.
In the NICU we care for the babies medically and physically but what about emotionally? This vital need can be overlooked and its importance under-valued. It is my belief that NICU infants often experience emotional malnutrition.
Children who experience severe sensory deprivation neglect in early childhood have a significantly smaller brain – the cortex develops abnormally, it atrophies. Research on orphanage occupants verifies this.
So, all that is done at the bedside daily matters profoundly and is critical to the outcome for the infant.
Sensitive, compassionate and responsive care-giving will change outcomes for these babies. Nurturing touch is as vital as a nappy change.
Skin-to-skin (STS) cuddling or 'kangaroo care' must be elevated in its importance to each baby in the NICU. This is how you, as a parent can make a difference in your baby's life every day. While your baby lies comfortably on your chest, talk to them and stroke them while they are awake and alert. When they show signs of stress (including hiccoughs), refrain from patting or stimulating in any way. Just hold them firmly to facilitate deep sleep. This is VITAL – restorative, rejuvenating and healing sleep. For more – The Immeasurable benefits of STS see Chapters 4 & 5 and for tips on STS pages 65-66.
3. Sleep
Sleep is essential – a fundamental biological need for all humans during every life stage but particularly during the growth and development of infancy.
What happens during sleep and why is it important? See Chapter 2 The Value of Sleep, pages 36-40.
Protecting infant sleep is a critical component of providing appropriate care in the NICU.
A growing body of literature supports and elaborates on the value of sleep in early brain development.
'Our present NICU practices, marked by persistent scheduled and unintended disturbances of infant sleep, at best, are inattentive to preservation of sleep, and at worst, overtly compromise optimal sleep cycles, with potential disruption of normal brain development'. (Liu, W. (2007) The development of potentially better practices to support neurodevelopment of infants in the NICU, Journal of Perinatology)
Sleep states first appear as recognised sleep states from 26-28 weeks' gestation. Both REM sleep and Non-REM (rapid eye movement) sleep cycling are essential for early neurosensory development, learning and memory and preservation of brain plasticity for the life of the individual.
In all animal studies where the infant animals are deprived of REM sleep, they have permanent neurological injury or failure of development occurs. (Graven, S. (2006) Sleep and Brain Development, Clinics in Perinatology)
Factors that affect quality sleep:
• Being separated from Mum: Skin-to-skin cuddling with mum (or Dad if mum is not available) is undoubtedly the best place for baby to feel safe and protected. When placed on the chest they can hear mum's heartbeat – the 'uterine lullaby'. This is where they instantly relax and can go into a much deeper sleep than when separated. (Morgan, Horn & Bergman, (2011) Should Neonates Sleep Alone? Journal of Biological Psychiatry)
• Swaddling: wrapping in muslin wraps provides much needed containment when separated from mother in the incubator, it enhances sleep minimizing startle to noise and movement.
• Newer forms of respiratory support are bulky, uncomfortable, and even painful for the baby. They can require frequent adjusting to maintain the prescribed air pressure.
• Some prongs are excessively noisy due to smaller prong size (which might be more comfortable) and higher flows. This incessant inescapable noise level is undoubtedly stressful.
• Rigid thinking by nursery staff – strict adherence to a strict regime of caregiving. Babies who are awake and have obvious discomfort need to be moved and repositioned according to their comfort needs, not held down! Sensitive responsive care-giving understands and accommodates the infant's needs and desires.

Countless studies have shown that without caring touch in infancy, mental, physical and social development is delayed. Le Boyer likens being touched, caressed and massaged as food for the soul – food as necessary as vitamins, minerals and proteins are to the body in a physical sense.
'Touch builds the foundation for the complex and intimate interchange between infant and caregiver, supplying the infant with a beginning interpretation of the world and the relationships on which they will come to rely on for their survival'. (Browne J.V. (2000) Considerations for Touch & Massage in the NICU. Neonatal Network)
For the term infant, touch is essential to establish a nurturing, protective attachment relationship with the primary caregiver. This in turn becomes foundational for learning, emotional regulation and social interactions. What about the tiny prem?
Usually after the trauma of preterm delivery and the initial necessary admission procedures – intubation, ventilation or other respiratory support, IV lines, blood tests, etc. the baby will have experienced overwhelming stress. They have left the comfort and protection of the womb and have been bombarded with the foreign, unpredictable and hostile nature of the NICU.
An infant born at term is equipped to handle the instability of life outside the womb, but the preterm infant is particularly vulnerable – neurologically their brain is immature and they are unable to filter out unwanted environmental stimuli – so they get overwhelmed easily. Also, physiologically they can be unstable – they are trying to regulate their heart rate, blood pressure, oxygen levels and breathing.
If they are extremely premature and /or has been born in poor condition, it will be unrealistic to expect them to be able to open their eyes in response to your voice and touch initially. However, they want to reconnect with you and holding them will help alleviate some of their anxiety – ideally STS, but if this is not possible cupping your hand around their head and 'holding' them will be beneficial.
All babies in the NICU are desperate for human interaction. When they are well and have had a good sleep, they have short periods of being awake and alert.
Tips for positive touch:
• It is a good idea to check with their nurse to get an update. Some days can be full-on especially when a few procedures have needed to be done. Consequently, they can be exhausted from all that even before you have time with them.
• Watch them for their cues – See Chapter 6. If they are in a deep sleep, wait until they stir before disturbing them. Most prems spontaneously wake on hearing your voice.
Good quality sleep is difficult to experience within the NICU environment and many babies suffer from chronic sleep deprivation which disrupts vital biological processes that are necessary for cognitive ability and physical health – See Chapter 2. It is important to follow their behavioural cues and act in synchrony with the baby's sleep-wake cycles. Often if they have been having a restful day, they will spontaneously wake up at your presence by the bedside.
• Speak softly to them. Remember they knows your voices – they had been hearing them for a considerable time.
• Hold their hand or touch them firmly as light stroking causes a tickling sensation.
• Your baby needs to be cuddled skin-to-skin for multiple hours daily. At first it is preferable for both mother and baby that mum does the STS cuddling – baby knows her scent, her heartbeat and the holding baby STS will help stimulate and trigger the lactation process. After STS, increased volumes of EBM can be expressed. See Chapter 4 Bonding with Your baby (p56-62) for more details of the Immeasurable Value of Skin-to-Skin Contact.
• Sing to them. Perhaps you have been singing them songs or know they likes certain music.
• Read them stories or just chat away. They will feel happier just knowing you are there.
• Please refrain from running your fingers over the soles of their feet as this sensation tickles them and it must be very annoying. You would be surprised just how many parents get great enjoyment from torturing their baby in this way.
The Immeasurable Importance of Skin-to-Skin contact in the NICU

Nature never intended for a mother to be separated from her baby at birth. In fact, amongst all mammals when prolonged separation of this nature occurs, the infant firstly protests (if they are well enough to), then the next stage of this continuum is to despair and finally stage 3 is dissociation.
Tiny sick prems who are separated from their mum, cannot protest – they have no physical resources to do so. They are trying to focus on stabilizing their breathing, heart rate and maintain their blood pressure.
They have come from the predictable, safe and protective environment of the womb to the unpredictable and overwhelmingly stimulating environment of the NICU where bright lights, high levels of noise and painful procedures only add to the separation stress they experience.
This separation from mum impedes attachment. Attachment is the emotional bond formed after birth with your primary caregiver – usually your mother. First described by Psychologist John Bowlby, in 1969, the central theme of attachment theory is when an infant experiences a caregiver who is available, dependable and responsive to his/her needs, this infant subsequently establishes a sense of security.
It is from this secure emotional foundation and attachment that sets this child up for life. It is through this lifelong bond, either secure or insecure that the child views the world. Emotional security affects every facet of our lives.
These things have a big impact on each little baby living in the NICU environment 24/7.
What can we do?
Some parents feel like they are in the way and so they don't linger at their baby's bedside but your baby needs you to come as often as you can and for as long as you can.
All babies need to experience frequent periods of love and nurture from their parents to help them grow and the best thing for you to do is to cuddle skin-to-skin (STS).
When you cuddle skin-to-skin here are some things to keep in mind:
• To be most comfortable and effective for your baby, your bra needs to be off so maximum skin contact is achieved. This ensures the pantry doors are open should they decide it's time for a snack!
• The mother's body will instinctively heat up (by 2 degrees C) or cool down to keep the baby at the right temperature.
• Regular STS contact has been shown to increase the quantities of breast milk you can express.
• The research shows the longer you hold your baby STS, the better for your baby – the more stable he/she becomes. So, come when you can and leave when you must. Please make this a priority.
• When in STS, your baby will often settle down into deep sleep, in fact a deeper sleep than they do when alone in the 'Perspex box'. This is because they feel at home – familiar with your smell, touch and voice and they can knowingly relax feeling safe and secure with you. On your chest, the baby can hear your heartbeat – the 'uterine lullaby' and they will visibly become calmer and happier.
• Support the back of the baby's head whilst in STS in an upright position. The baby's head is heavy – heavier than the body and if it is extended there is a lot of pressure put on the baby's little neck.
• While they sleep soundly it is important for you to hold them firmly with NO patting or stroking. This is to facilitate deep sleep, which is vital for growth and healing as well as facilitating normal brain development.
• NICU babies have some degree of sleep deprivation so it is a time to catch up a bit.
• When the baby is awake and alert this is your time to connect – talk, stroke him/her, maintain eye contact, etc. Verbal interaction with your baby is vital for their continued development.
Signs of tiredness:
After a few minutes prem babies can become tired, hiccough, yawn, look away or close their eyes. This is the sign to stop stimulating them. So just hold them close and firmly again as before.
If your baby is struggling with breathing, they will have less energy for social interaction.
Please honour their need for sleep – Sleep is VITAL – for the brain to develop normally and is also vital for growth and healing.
Remember don't play with your baby when they show they want or need to sleep. This includes stroking and patting. These actions further stimulate and can easily overwhelm your baby, increasing their exhausted state. A dangerous sign of overstimulation is bradycardia.
While having STS, your baby may begin looking for your nipple. Their sense of smell is very powerful at a young age so they are drawn to where the food supply is. This is called the rooting reflex and it is part of the survival instinct. Having your bra off means they have easier access to the breast. If this occurs squeeze some milk from your nipple and put the baby near it to lick and taste it. Some prems will suckle at the breast and receive milk from as early as 28 weeks providing they have no breathing challenges. This is much earlier than previously thought.
Research shows early STS opportunities and early breast contact is predictive of higher breast-feeding success.

Amongst the ex-prem population the incidence of learning disorders, behavioural problems, and emotional and psychiatric problems are increased.
Here are some important things that I believe are imperative for you to give your baby the best possibility of having the most normal outcome.
• Cuddle STS as long and as often as you can. Changing the babies experience to predominately one of love and nurture has been shown to be neuro-protective, reducing the stress experienced.
• When in STS please allow your baby to get into a deep sleep. Sleep cycles last about 40-50 minutes. During this time please refrain from disturbing your baby. As mentioned earlier sleep is vital for normal brain development and this is what we want to protect. They will stir and arouse from the deep sleep at the end of each cycle. When you need to return them to the incubator try to do this in sync with the sleep cycle. So, when they stir and stretch, this is the perfect time to disturb them and move him. Return them wrapped, helping them feel safe and secure during the transfer, lessening their stress.
• If you have twins it is important for them emotionally and psychologically to be reunited as soon as practical in the NICU/SCN. Short visits of the twin who is most well to the other twin's incubator so they can spend some time cuddling together in the incubator or on your chest together should occur as soon as possible or practical. This provides a great emotional boost for both babies but particularly the sicker twin.
Reading and understanding your baby's body language

Babies talk to us from birth – they exhibit certain behaviours and subtle cues. Whilst they may look cute and amusing, it is vital to learn, understand and honour what your baby is telling you.
How can we know what they are telling us?
Premature babies often show both avoidance behaviours and approach behaviours.
Avoidance behaviours are those where they attempt to tell you he is feeling overwhelmed and please 'leave me alone to get some rest', and
Approach behaviours are those where they are saying 'Hey, where are you? please talk to me!'
Chapter 6 deals specifically with this important topic with pictures to demonstrate.
When you read this, you may well be aware that your baby exhibits only avoidance behaviour. This is probably because they are little, sleep deprived and is using a lot of their energy to breathe. So invariably he doesn't have spare energy for social interaction. Slower weaning of respiratory support could make more energy available for these important social occasions.
Cuddling STS, minimizing disruptions to sleep can recharge their batteries so in a few hours they will be ready for a short 'chat'. Make sure you are with him when this happens.
I have overheard nurses tell parents that babies do not like to be stroked. This, in my opinion, is untrue. Certainly, when they are sick or exhausted the extra stimulation from stroking can cause them to become extremely stressed and bradycardic.
When wide-awake, prem babies crave human contact and interaction. They almost 'purr' when stroked and enjoy it for several minutes – even at 617 grams. Please ensure you stop when they start to show signs of tiring.
The signs of tiredness are important to know and understand also, see page 156.
For more information see Chapters 6, 7, 9 & 12.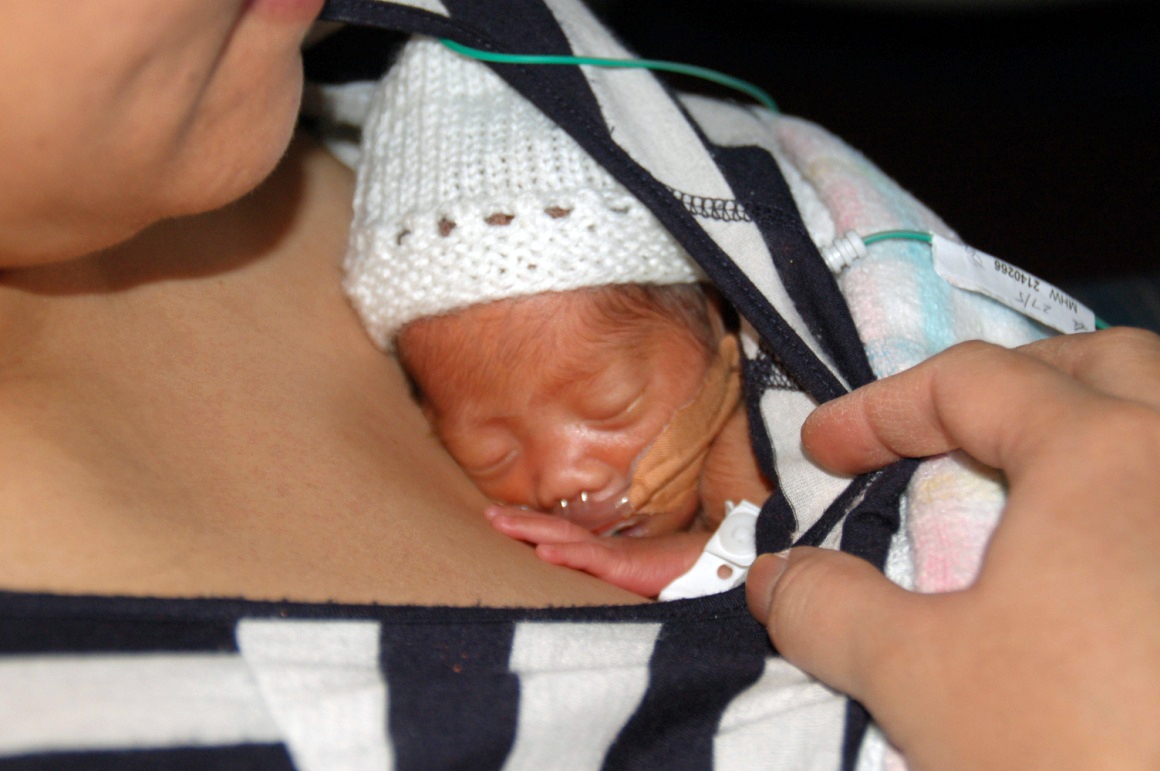 The mother has a unique role and is a vital member of the team caring for her baby. She and she alone provides the expressed breast milk or EBM which is the ultimate as far as infant nutrition and nourishment goes and this is an important component of the baby's medical and emotional treatment as well.
Breast milk is a unique and complex fluid containing well more than one hundred constituents. It is considered a 'living' fluid with properties containing antibacterial, antiviral, anti-infective, and anti-parasitic constituents as well as hormones, enzymes, specialized growth factors and immunological properties.
Breastfeeding offers a close, physiological and psychological bond between a mother and her baby and it contributes far more to the health and wellbeing of a nation than is currently realized or acknowledged.
Benefits of breast-milk for the Baby
Immunological:
There is greater immune health reducing the susceptibility to certain diseases in childhood and even into adulthood.
For example: An English study found the 66 preterm babies who had received breast milk or donor breast milk had lower blood pressure at ages 13-16 years compared with 64 preterm babies who were given preterm formulas.
In Western Australia, a large group of children followed from birth to 6 years were found to have significantly lower rates of childhood asthma at 6 years than children who had been breastfed for at least 4 months.
A Scottish study following children from birth to seven years found a significantly reduced incidence of respiratory illness if exclusively breastfed until at least 15 weeks compared with children who were partly breast and formula-fed.
Other immunological benefits include:
• A reduced incidence of Gastrointestinal and Respiratory infections during the neonatal period,
• A lower incidence of Otitis Media (ear infections), juvenile onset Diabetes, Meningitis and Septicaemia,
• A reduced mortality rate among preterm and low-birth weight babies from Necrotising Enterocolitis (NEC) see Chapter 24 or p 310-311 of 'just a moment too soon' for more details.
• A possible reduction in the incidence of some childhood cancers (Lymphoma and Hodgkin's disease).
• Breast milk can be used with powerful effect on eye infections (and other mildly superficial skin infections) in the newborn period. A quick squirt in the affected eye at feeding time will allow the antibody properties to effectively treat this condition.
• For more significant infections or if the infection is not responding please do not hesitate to consult your Doctor or Maternal Community Nurse.
Other health benefits include
• Increased protection against dental caries,
• A reduction in the severity of certain allergic conditions including Eczema, Dermatitis and Celiac disease.
• Breast-milk contains specific growth factors, which are important in the development and maturation of the brain, retina and central nervous system.
• Higher intelligence: Infants who are fed breast milk exhibit higher developmental scores and higher IQs and their brains are shown to be larger on ultrasound scan than those infants who are fed formula. Formula companies constantly aim to replicate breast milk by adding various components to their 'mix', however the evidence remains.
• They have improved lipid profiles in adolescence,
• Reduces the risk of extreme obesity in young children.
Emotionally and Psychologically:
Mum contributes to the symbiotic, non-verbal relationship started since conception and interrupted by premature birth and admission to NICU. Breastfeeding contributes powerfully to this relationship strengthening a close and loving bond.
For many mothers, there is an overwhelming psychological need to 'help' their baby. It is her right to nourish and nurture her own child. She is the only one who can: soothe and comfort them – skin to skin, between her breasts. The baby incredibly knows their mothers' unique scent and the sound of her heartbeat is the 'uterine lullaby'. She provides the unique milk made perfectly for her own newborn.
The baby is more easily aroused from sleep as gastric emptying time is shorter for breast milk (as it is uniquely suited to each baby). This means that the breast milk is more readily digested so more frequent feeds are usually required.
Benefits for Mother
• Best nourishment and most cost-effective way to feed your infant. Once established, breastfeeding is easy to maintain and manage, always available if mum is in attendance and at the prefect temperature.
• Less mess – requires no preparation, vomit and stools smell much less offensive (more environmentally friendly).
• Decreased bleeding after birth because of a higher oxytocin level when breastfeeding or expressing.
• There is a potential reduction in the time needed to lose the weight gained during the pregnancy.
• Exclusive breastfeeding and frequent feeding can delay the return to fertility – this is called Lactational Amenorrhoea. However, this form of birth control is only about 85% successful so there is quite a risk of becoming pregnant again – perhaps sooner than you would desire, so be aware of this!
Longer-term maternal benefits
• BF lowers the risk of cardiovascular disease in later life,
• A lower incidence of premenopausal breast cancer and some types of ovarian cancer and uterine cancer.
• A lower incidence of long bone and hip fractures in women over 65 years and no increased risk of postmenopausal osteoporosis.
On a global scale
Breastfeeding can be attributed to significantly reducing both infant and childhood mortality.
The World Health Organisation (WHO) purports that even a modest increase breastfeeding rates worldwide could prevent as many as 10% of all deaths of children.
Infants who are not breastfed are
• two and a half times more likely to suffer an episode of illness
• in first year are up to three times more likely to die from respiratory infection compared with those exclusively breastfed
Those who do not exclusively breastfeed are
• up to 25 times more likely to die from diarrhoea in the first 6 months of life
Those who are formula fed are
• 6-10 times more likely to develop the potentially fatal gut condition called Necrotising Enterocolitis, particularly if premature, if given only formula and not breast-milk as their first enteral feed.
• Twice as likely to suffer from acute otitis media compared with those who are exclusively breastfed.
Exclusive breastfeeding means the entire baby's nutrition is received at the mother's breast and no supplementation of formula is required.
'just a moment too soon' covers many aspects of breastfeeding including:
• Lactating (how the breast works) and Expressing,
• The breastfeeding journey for the Prem baby,
• Positioning and attaching (with diagrams),
• Signs of a well-fed baby,
• Signs of an inadequate supply,
• Signs of poor attachment,
• What successful breastfeeding involves,
• Flat, inverted nipples, nipple shields,
• Tongue-tie,
• Breastfeeding and discharge,
• What to expect with baby's weight gain,
• Understanding growth spurts,
• How to increase your breast milk supply.
Your attitude to breastfeeding

A woman's attitude to her breasts influences her attitude to breastfeeding. There is a whole range of perceptions that she may have regarding her breasts.
They can range from: breasts have no function other than for breastfeeding or the opposite extreme could be she sees them as purely sexual objects.
Some women have extremely sensitive breasts and do not enjoy handling them; others from a strict religious or cultural upbringing may have significant negativity towards their femininity including their body and breasts.
Confronting and painful childhood sexual abuse issues can also resurface when contemplating or preparing for childbirth.
Attitudes that are inhibiting or negative will have a major impact upon your success in this area. If needed get professional help to deal with these.
Remember the mind and the body work together.
A positive mental attitude towards breastfeeding will be a major determinant in being able to successfully breastfeed your baby.

Male attitudes toward breastfeeding can vary considerably with some having very strong views on the topic. This can influence and consequently impact either positively or negatively upon breastfeeding success.
Some men see the breasts as their domain only and consequently feel jealous and resentful of the 'intruding' breastfeeding baby, whilst others are very supportive of their partner's plans to breastfeed, even assisting to express in the early days.
Some of these men even seem more strongly desirous of a successful outcome than do their wives.
Don't under-estimate the power that these attitudes will have on your outcome. Be real with yourself. You cannot fool your body!
To breastfeed or not to breast feed:
There is considerable pressure both socially and culturally to breastfeed and this is also very evident within the hospital environment. It is not my intention to persuade anyone to change their views on breastfeeding however the overwhelming evidence stands so strongly especially when it comes to the premature baby population. Therefore, I make no apology for unequivocally advocating that breast milk is undoubtedly the best for your prem baby.
If you are undecided about whether to breast feed or not, it is not important that you make that decision immediately, however you will be encouraged express and provide colostrum for your tiny prem baby first few weeks at least and then express for as long as you can after that.
Some women who are not keen to breastfeed will commit to express milk for their prem baby for several months knowing its enormous benefits. These benefits have been mentioned earlier on this site and are also discussed at length in 'just a moment too soon'.
Whilst breast milk provides optimal nutrition for all infants it has also been shown to contribute significantly to positive neurodevelopmental and medical outcomes of the extremely low birth weight (ELBW) population. These are amongst the most vulnerable of the NICU population.
The importance of breast milk

The importance of breast milk for your premature baby cannot be underestimated.
Breast milk is a unique and complex fluid containing well more than one hundred constituents. It is considered a 'living' fluid with properties containing antibacterial, antiviral, anti-infective, and antiparasitic constituents as well as hormones, enzymes, specialized growth factors and immunological properties.
Breastfeeding offers a close, physiological and psychological bond between a mother and her baby and it contributes far more to the health and well-being of a nation than is currently realized or acknowledged.
Breast milk is vitally important for the health and well-being of your preterm baby – more so than a term baby because the prem gut is fragile and giving formula can even be dangerous for preterm infants, especially extremely low birth weight ones. So, milk banking has become important for those who cannot provide EBM. Other lactating mothers with excess milk donate it after completing lifestyle questionnaire and blood screening. This milk is then pasteurised and made available for prems within the NICU.
If you don't have enough milk for your baby, there are foods and herbs that you can take that can help increase the volume. The end of Chapter 8 (p 97 onwards) includes very effective soup recipes, herbs, foods, etc. Ensure you eat well, rest adequately, express often (2-3 hourly) and spend frequent time STS with your baby. These things along with the soup should ensure success. However, Chapter 8 also includes other things that could need to be considered.
'Everything the mother does affects the breast milk' what a profound idea – but it is true – everything the mother does affects the breast milk. Increasing your dietary intake of Omega 3's will be important whilst expressing and having your baby in the NICU. This will increase the content of good fats in the milk so vital for their continued growth and development. A snippet of the advantages are:
• Helps the brain function better and aids myelination of nerve pathways – the brain is 60% fat;
• Improves vision – the retina is 90% fat;
• Reduces inflammation and promotes healing;
• Improves immunity;
• Helps the baby gain weight naturally rather than adding synthetic powders to EBM;
• Is protective against postnatal depression.
Omega 3's should continue through infancy, childhood and schooling and adulthood - such are the benefits to learning, memory, intelligence, health and well-being.
Omega 3 rich diet for the lactating mothers:
• 180 grams wild salmon twice a week (not farmed)
• oily fish – sardines, herring,
• egg yolks,
• avocados,
• linseed meal – grind your own and freeze enough for a week or buy LSA in supermarket, sprinkle on cereal.
For more see: The Omega 3 Effect Dr W. Sears & Dr J. Sears, Little Brown and Company. 2012
The process of normal breastfeeding behaviour

Normal behaviour at the breast for a term baby: shows signs of hunger – 'rooting' around (opening mouth wide looking for the nipple), smells the milk, looking to latch on. A 'deep' latch is necessary as each nipple contains 15-25 lactiferous ducts which are surrounded by fibromuscular tissue in an interwoven arrangement. With a deep latch and the rhythmic movement of the baby's tongue and gums, the milk is effectively extracted from these milk reservoirs and often an audible swallow is heard.
Initially on attachment the baby demonstrates a rapid succession of short sucks followed by swallowing after every 4 or 5 sucks (suck – suck – suck – suck – swallow). However, once the letdown reflex has occurred and the milk flow increases, the sucking pattern changes to longer slower rhythmic sucks followed by swallowing after each suck (suck – swallow – suck – swallow). Sometimes you can hear the baby gulping the milk down.
There are pauses to rest during the feed. This is normal and natural. There will be many more pauses for the prem baby as they summon the energy to latch and breastfeed.
The letdown reflex:
Whilst the hormone Prolactin is responsible for milk production (see Chapter 8 on Lactation and Expressing), another hormone called Oxytocin is responsible for the letdown reflex. The action of Oxytocin is to contract the cells surrounding the alveoli and lobular ducts, forcing the milk out of the alveoli and smaller ducts into the larger ones ready for the baby.
The letdown is triggered by nipple stimulation, seeing and hearing a baby crying (not just your own baby), and/or smelling your baby's scent as well as just thinking about your baby. So, it can commonly occur whilst out shopping!
Sitting and expressing by your baby's bedside or whilst the baby is STS is great with the letdown being enhanced by relaxed shoulder muscles and relaxed happy thoughts. When expressing at home positioning yourself with their photo nearby is helpful as is focusing on your dreams of the future with them.
The letdown can be inhibited by the release of adrenalin in stressful situations like pain or embarrassment and it may be slow if the milk supply is low.
What does it feel like?
It feels like a strong tingling sensation that could sometimes be classified as almost painful, a feeling of fullness in the breasts or milk leaking even spurting from the breasts.
Several chapters in the book discuss this topic much more depth.
What does successful breastfeeding involve?

There are several components to successful breastfeeding and they include:
The baby having the energy to take all the prescribed volume of milk by mouth within an allotted time (approximately 30-40 minutes) and maintain a sustained pattern of weight gain.
Completing the feed in a 30-40-minute time-frame allows time for the nappy change a short 'talk' to your baby (maybe 5-10 minutes – they need this interaction and stimulation), and then tuck them into bed within the hour. Initially there is not much time to 'play' with your baby – it is feed, sleep, feed, sleep.
This is important so the baby gets the necessary rest and sleep ready for the next feed to replenish his energy stores. If the baby is up longer and over stimulated, they will become overtired, then they cannot sleep well and this will impact on his ability to feed well.

• Contented after feeds-often dropping off the breast when full, appearing as if drunk and sleeping between feeds – demand feeds are between 2 to 5 hours apart.
• Alert and active (kicking around when awake), has a lusty vigorous cry – a sign of energy.
• Has around 6 wet nappies in 24 hours.
With disposable nappies /diapers it can be difficult to ascertain the amount of urine being passed.
One easy suggestion for those keen to know just how much urine is being passed – weigh the dry clean nappy on kitchen scales – a newborn size nappy weighs around 25 grams (dry weight) – then weigh it after changing it – each gram will equate to 1 ml of urine passed, ie a nappy weighing 115 grams would equate to 90 mls of urine having been passed.
• Adequate weight gain.
In the early days after discharge keep a chart with feeding times and output details. This means you don't have to remember all these details (remember you will be sleep deprived most probably) and can easily refer to the notepad when asked by a health professional about the baby's feeding pattern.
Many mothers find BF daunting because they are not sure how much milk the baby has had so they would rather resort to formula in a bottle to calm their anxieties. But don't worry the baby will tell you if they are hungry.
Signs of an inadequate supply

• Breasts don't feel full or heavy prior to a feed,
• A short length of time the baby has doing the long deep sucks with a swallow after each suck,
• When a baby has the short sucks with 4 or 5 before swallowing, this indicates that they have to suck lots before getting enough milk in his mouth to swallow it,
• The baby pulling off the breast, looking for milk elsewhere or crying in frustration,
• A baby who does not sleep or settle after feeds, or wakes up after a short time (anything under 2 hours),
• Insufficient wet nappies in a 24-hour period – 6 wet nappies/diapers are sufficient,
• Poor weight gain.
• Signs of dehydration – dry skin, dry mouth, poor tissue turgor.
As they are rapidly growing but losing weight, they can look scrawnier with his skin being looser looking rather than the 'filling-out' look of a contented well-fed baby. You may even see his bones more readily.
Sometimes it can be confusing because a baby who is not getting enough calories over a period will become increasingly sleepy, lose his energy and become more and more unable to feed. This can deteriorate further with him being unable to wake up to feed. This period would be several days or longer.
So, are they sleepy because they are full and had enough milk or because they are increasingly being starved?
Beware: If they have not been getting enough milk over a period and is becoming weaker and weaker, sleepier and sleepier – you need urgent medical help. Once the baby is given extra calories (BF, EBM or formula) over a few days (by bottle or nasogastric tube or IV if necessary), providing they are well, they will re-hydrate in a day or so and return to his normal active energetic self, beginning again to gain weight.
Optimizing your baby's development

In the NICU
For the preterm infant 'everything hinges on the environment and the mother is the environment for the primate. Nothing makes sense for the baby except through the mum's body' (Bergman). Her heartbeat is imprinted upon the foetal psyche – it is called the 'uterine lullaby'.
Frequent prolonged periods of skin-to-skin (STS) contact is vital to lessen the impact of separation, the unpredictable nature of the NICU environment and decrease the levels of circulating Cortisol which can be toxic to the tiny developing brain.
STS will visibly calm the tiny baby promoting deep rejuvenating, healing sleep – so the longer you can sit, the better.
Other strategies that will help include:
• Talking to your baby when they are awake or upset – all babies are very responsive to their parents' voices,
• Loving nurturing touch is vital – holding him firmly or stroking him when they are calling for interaction,
• Holding him so you can both engage in eye to eye contact,
• Reading stories during STS or whilst at the bedside, or
• Playing favourite music is known to be calming.
These strategies will provide much needed stability, familiarity, calming the baby and help facilitate deep sleep. These things are important to promote calmness and trust.
After discharge to home
Prone play or tummy time is rarely discussed when your baby is in the nursery. Once the breathing and feeding challenges are behind you then priorities change and tummy time is elevated on the list of important things. Allowing and encouraging your baby in daily tummy time is vital for their ongoing development. Many strategies are discussed in Chapter 14 'Beyond Home' & Chapter 25.
Chapter 25 discusses the growth and development of your prem and how you can optimize development in the first year of life. If your prem is your first child you may not be familiar with normal stages of growth and development so this section will provide important benchmarks for you to know.
Subjects covered here include:
• Providing positive social and learning opportunities
• Cognitive development
• Coordination
• Importance of hearing in development
• Stages of normal development at 1 month, 2 months, 3 months, 4 months, 5 months, 6 months
• Enhancing development through mobility, speech development; and
• Bilingual opportunity